Welcome to Springbank Hill
The southwest quadrant is an upscale part of Calgary that houses several affluent neighbourhoods in the city. One such neighbourhood is Springbank Hill – a large and fairly new suburban community bounded by 17th Avenue SW to the North, by Stoney Trail to the South, to the East by 69th street SW, and to the West by 101 street SW.
In the Springbank Hill neighbourhood, you will find some of the best luxury homes in the city, top-ranking schools, and high-end recreational facilities that are surrounded by wide-open lots of land, the Elbow River Valley, and breathtaking views of the foothills and the Rocky Mountains.
Springbank Hill Calgary Real Estate Market Trends
Homes in Springbank Hill have an average square foot of 2,283, and the average price per sq. ft is about $583. The average asking price of homes for sale in Springbank Hill Calgary is about $1,267,047. You will find the highest-priced property at about $3,999,999 and the lowest at about $199,000.
The Springbank Hill neighbourhood was established in 1999 and annexed to the city of Calgary in 1994, but a large percentage of the housing growth in the community didn't take place until after the year 2000.
Is Springbank Hill a good area to live in?
Springbank Hill is a family-oriented neighbourhood primarily offering luxury single-family homes with exceptional yards – the perfect environment to settle in if you are thinking of raising a family. You will also find mid-level detached homes, apartment condominiums, and townhomes, which could imply that you don't have to have a family to enjoy the luxurious life the neighbourhood provides.
The neighbourhood's location keeps you away from the hustle and bustle of the city, allowing you to enjoy your peace and quiet. Despite this, Springbank Hill still provides you with quick and easy access to downtown Calgary – just about 15-20 minutes of drive time.
Springbank neighbourhood features wide open spaces and parks, beautiful landscapes of the rolling foothills and the Rocky Mountains, access to state-of-the-art amenities and services, and high-end shopping centres. 
Springbank Hill Neighborhood Demographics
The Springbank Hill population is currently over 11,000 and keeps increasing as more people fill the newly developed parts of the neighbourhood. The median age of residents in this community is 39, and you will find that young professionals make up a significant portion of the population in the neighbourhood, with a median household income of about $179,118.
The residents also love to spend time outdoors, enjoying the luxurious comfort and fun Springbank Hill provides. For detailed demographic information regarding the community of Springbank Hills, please visit the Springbank Hill Community Profile page.
Points of Interest in Springbank Hill, Calgary
Large lots of land and panoramic views aren't the only appeals to living in the Springbank Hill neighbourhood. Residents also enjoy easy access to attractive amenities and elite recreation centres in and around the community.
The Springbank Hill Community Association (SBHCA) works actively to create an atmosphere throughout the neighbourhood where residents can mingle and connect. Family events and programs are organized by the association for these purposes. The facilities that residents, visitors, and volunteers in the neighbourhood have access to include prestigious schools and colleges, posh restaurants, and high-end shopping centres.
Read Also: How to Buy a Home With a Bad Credit
Schools
You have nothing to worry about if you're looking to enroll your kids into high-ranking schools in the neighbourhood. You will find several elite private, public, and separate schools and colleges in and around the Springbank Hill neighbourhood offering quality education from kindergarten to grade 12.
Private schools in the area include:
Menno Simmons Christian School (K – 9)

R.C Conklin School

Rundle College Jr./Sr. High School (K – 12)

Moon Music (music school)
Public schools in the area include:
Ernest Manning High School (Grades 10 – 12)

The Battalion Park Public School (K – 6)

Griffith Woods School (K – 9)

Holy Name (K – 6 French Immersion School)

Westgate School (K – 6 French Immersion School)
Colleges in the area include:
Ambrose University

Mount Royal University
Dining, Shopping, & Entertainment
The Westhills Towne Centre, located at the corner of Sarcee Tr. And Richmond Rd. is an outdoor shopping centre available and easily accessible to the residents of the Springbank Hill neighbourhood. The mall features several retail and specialty shops, fancy restaurants and cafes, banks, grocery stores, and a movie theatre – almost everything you need is within close proximity.
You also have other options for shopping, a few minutes away at Richmond Square, Aspen Landing, and CF Chinook Centre – which is the largest shopping mall in Calgary, providing greater choices for shopping, dining, and entertainment. You don't have to go too far to get your favourite luxury items as the shopping centre features several high-end-brand stores, including Apple, Microsoft, Saks Fifth Avenue, Nordstrom, and Hudson's Bay.
Transportation
The Calgary C-Train station, which serves the Springbank Hill community, transports residents to downtown Calgary and beyond quickly, safely, and at affordable rates.
The neighbourhood is also car-friendly – offering you ample parking spaces and providing good access to freeways and major routes into the city and beyond it.
Recreation and the Outdoors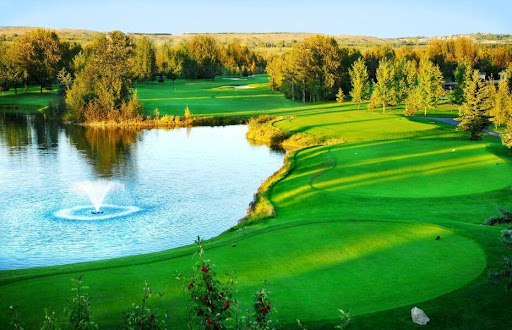 Springbank Hill offers various avenues to enjoy the best outdoor experiences. You and your family can indulge in fun activities such as hiking, bicycling, and picnicking at Griffith Woods Park and Weaselhead Flats nearby.
Residents who enjoy golfing will enjoy visiting the Elbow Springs Golf Club and the Pinebrook Golf and Country Club, only a few minutes to the west. Families, visitors, and volunteers in the community also have access to the Westside Recreation Centre – a leisure centre packed with fun activities and programs for families, ranging from swimming and personal fitness training to games and youth activities. The Westside Recreation Centre is located north of the Springbank Hill neighbourhood, requiring only a few minutes of drive-time.
Springbank Hill Calgary Real Estate Agent
Are you looking to buy or sell a home in Springbank Hill, Calgary? Let our team of real estate experts take on the burden for you so you don't have to feel overwhelmed. It is our mission at Rivers Real Estate to help our clients achieve their home goals, so all you have to do is tell us what you need, and we take it up from there – our experienced team knows just what to do to ensure your satisfaction with the purchase or sale of your Springbank Hill home.
Contact us today, so we can help you hit your luxury home goals!